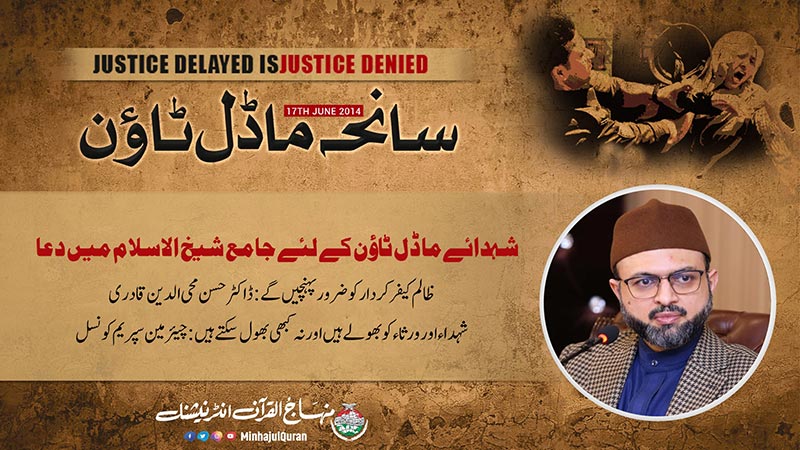 A special Dua ceremony was held at Jame' Shaykh-ul-Islam Model Town Lahore in which Chairman MQI Supreme Council Dr. Hassan Mohi-ud-Din Qadri led Dua for the departed souls on the occasion of the ninth anniversary of Model Town tragedy. He said that a great deal of oppression was perpetrated on this day nine years ago on the innocent and unarmed workers. He said that the legal team has been engaged in a struggle for justice for the heirs of the martyrs since June 2014, adding that we await the day when the oppressed would get justice.
Dr. Hassan Mohi-ud-Din Qadri said that it is a pillar of faith with us that those who committed violence on the hapless and innocent workers would meet their end one day. He said that Allah's justice may take time but it is delivered nonetheless. He said Allah is Just and loves those who dispense justice. He said that the bereaved families are looking toward the judiciary for justice. He asked the MQI chapters to hold Dua ceremonies across the country. He said that we have neither forgotten our martyrs and their families nor will forget them, come what may.
Meanwhile, Chairman Supreme Council Dr. Hassan Mohi-ud-Din Qadri delivered his address to the Friday congregation on the subject of "Gratitude" and said that Allah blesses those with more who express thankfulness for His bounties. He said the country is gripped by various crises. The people are hopeless and deeply unhappy, adding that the present state of affairs owes itself to lack of gratitude on our part.
Dr. Hassan said that Allah blessed us with the gift of freedom, gave us fertile lands that grow all kinds of fruits and crops, sky-high green mountains, and mineral resources but we let go of the feeling of gratitude with the result that we have been deprived of peace, and contentment. He said if we want to get rid of the prevailing restlessness, and live a life of ease and comfort then we need to commit ourselves to hard work as well as express our heartfelt gratitude to our Lord over the blessings given by Him.