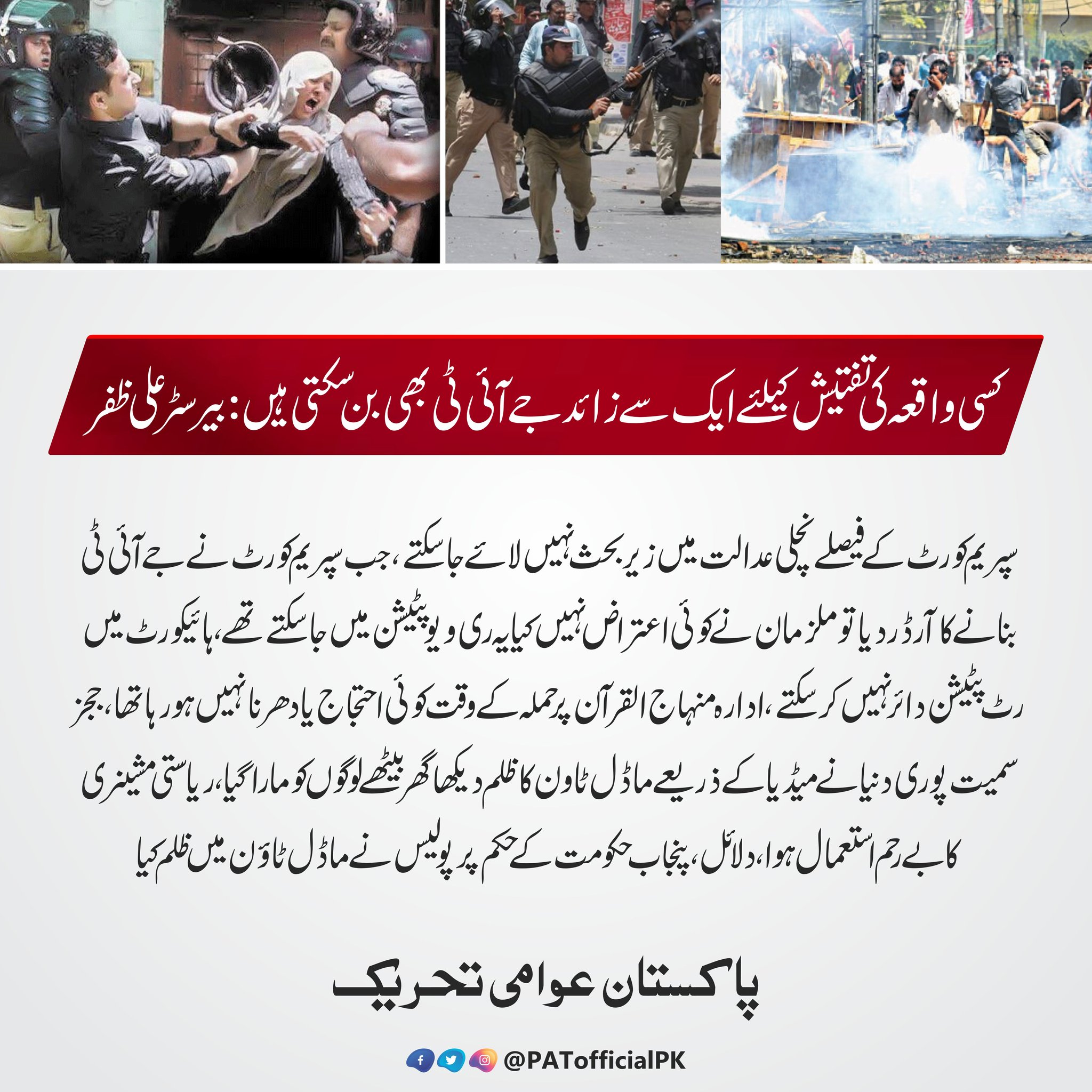 Seven-member larger Lahore High Court headed by Chief Justice Amir Bhatti heard the Model Town JIT case. Barrister Ali Zafar, who was representing the families of the martyrs of Model Town, presented arguments. He said that more than one JIT can be set up for investigation into an incident. He said that the Supreme Court judgments cannot be discussed in the subordinate courts. He said that innocent people belonging to MQI were mercilessly attacked and gunned down for no reason. They were neither protesting nor staging a sit-in. He said that Punjab police opened fire on innocent citizens on the orders of the then government on June 17, 2014 and killed and injured people.
Barrister Ali Zafar said that the police, being the perpetrator of the tragedy, was our accused, adding that the same police was used to conduct an inquiry. He said that the Supreme Court issued notices along with the petitioners on the occasion of the second JIT. All the people appeared before the honourable but no one raised any objection. He said that if they had any objection against the SC ruling, they could have gone for a review but they did not. He said that the whole nation including the honourable judges saw the carnage in Model Town on their TV screens, stating that this massacre was like the ones done by the imperial English in pre-partition days.
While continuing the arguments, Barrister Ali Zafar said that the government machinery was liberally used in the incident; two FIRs of the incident were registered and the second JIT was formed on the direction of the Supreme Court. He said that the then Chief Justice took notice with respect to the second JIT on the basis of human compassion and passed an appropriate order. He said that Pakistan's history does not offer a parallel of oppression that was perpetrated in Model Town in June 2014. He said that the government, investigators and the accused are the same body of the people in the case.
Azhar Siddique Advocate and Naeem-ud-Din Chaudhry Advocate were also present on the occasion.