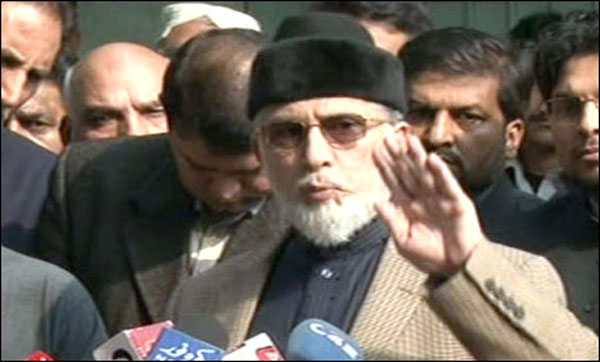 LAHORE: Pakistan Awami Tehreek (PAT) leader Dr Tahirul Qadri alleged that the plan for constituting the Joint Investigation Team (JIT) to probe the Model Town killings was chalked out in Patiala House.
"A rehearsal was performed by staging a complete set at Patiala House to record the statements,' Dr Qadri alleged while talking to media representatives here at his residence prior to his departure for Bhakkar.
The PAT chief once again said that he rejects the JIT, saying the judicial commission had already declared the Punjab government culprit.
He said this fight will not stop here. "We did not take a step back from our objective and we have no intention to do so in future," he pledged.
Qadri said the government had taken a stay order from the Lahore High Court (LHC) to preclude the report of judicial commission from becoming public.
Source: www.thenews.com.pk