Offers his arrest in fake cases if the accused PM and CM are arrested in Model Town tragedy.
Reveals Dr Tauqir Shah is being appointed ambassador to make him stay quiet.
Refuses to accept JIT of killers.
Terms establishment of Review Commission to analyse report of a serving High Court Judge as contempt of court.
Rules out differences with PTI. Says excellent working relations exist with PTI.
Addresses heavily attended press conference in Lahore after return from abroad.
PAT chief Dr Muhammad Tahir-ul-Qadri has said that everyone knows who fired bullets at innocent civilians and who is a killer. He said that we would not let justice be murdered, adding that Dr Tauqir Shah, who got orders of killing from the Chief Minister, is being appointed ambassador to make him stay mum. He said that the JIT composed of killers is not acceptable at any cost. He said that the establishment of a commission consisting of retired judges to review report a serving judge is tantamount to a contempt of court. He said that if the Prime Minister and the Chief Minister, the principal accused in Model Town incident, are arrested and we will also offer to be arrested in fake police cases. He said that whosoever wants to arrest him should go ahead as he is not hiding anywhere. He said that the government has backtracked on all demands it had accepted during negotiation. He asked would there have been any review commission had findings of the judicial commission's report been in favour of the government?
Dr Tahir-ul-Qadri expressed these views while addressing a crowded press conference at his residence in Model Town on Nov 20 after reaching home from London. He left for Data sahib at 7 a.m. directly from the Lahore Airport along with thousands of workers. He finally reached the shrine of revered Sufi saint after a travel of five hours where he prayed for the country's prosperity and peace. He spoke to media on reaching his residence.
Dr Tahir-ul-Qadri said that the judicial commission held the Punjab government responsible for Model Town tragedy after viewing TV footage of 12 hours. He asked what more evidence is required after this. He said that making the report public within 40 days is a legal requirement but the rulers are sitting on the report by having a stay order. He said that when he came to Pakistan on June 23, he saw the workers being killed by the government authorities, adding now he is seeing that the justice is being killed in broad daylight. He said that JIT formed without concurrence of heirs of the martyrs and constitution of a Review Commission is against the accepted principles of law and justice. He said that he had asked the government to appoint any officer from KPK as head of JIT but they have backtracked on all of their commitments. He said that we had approved the name of one officer out of many belonging to Sindh province whose names were given by the rulers but they turned their back on it as well.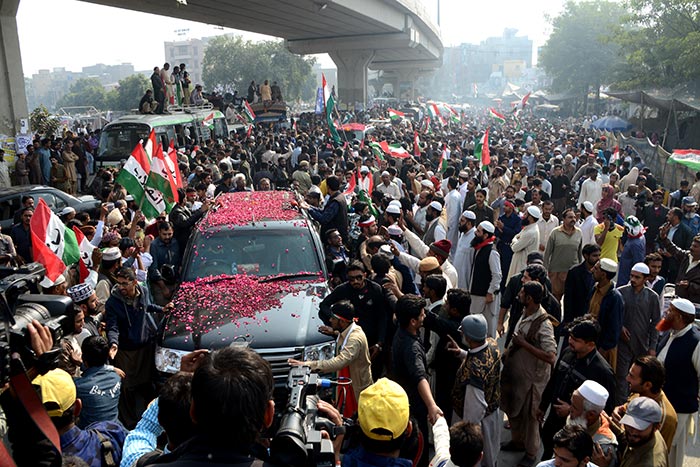 Dr Tahir-ul-Qadri stated categorically that the Punjab police is a killer, adding how he could accept the investigation of killers who have blood on their hands. He said that establishment of a commission of retired judges to review report of a serving judge is a tragedy that can be likened to an attack on the Supreme Court. He said that review appeal is always filed before a judge who gives original verdict. He said that the Judicial Commission's report has held the rulers of Punjab responsible for the mayhem at Model Town.
Dr Qadri revealed that former Principal Secretary of the Chief Minister is being appointed as ambassador in Geneva in WTO Mission lest he should become an approver. He said that the appointment to the ambassadorial assignment has been put on hold till the completion of his training at the Staff College. He said that the news of making Dr Toquir Shah OSD is also incorrect as he accompanies the rulers in all of their foreign junkets. He said that the Ministry of Commerce proposed seven names for appointment as ambassador but the rulers added the 8th name of Dr Toquir Shah in the list, which was rejected by the Federal Minister for Commerce Khurram Dastigir but both Sharif brothers are insisting to make Dr Shah ambassador.
The PAT chief said that the law is being changed through the Review Commission. He said that in case of any adversarial report in future, the rulers will now be able to get its contents changed by their blue-eyed family friends, retired judges, and bureaucrats. He said that we would not let justice be killed in this manner nor would we let government betray the sacred blood of martyrs. He said that hundreds of cases have been registered against PAT workers in every district. He said that if a worker secures his release on bail in one case, he is arrested in another within no time.
Dispelling all rumours and speculations of differences between PAT and PTI, Dr Tahir-ul-Qadri said that excellent working relationship exists between both parties and all news suggesting differences are baseless and speculative. He said that PAT is taking part in by-elections in Bakhar on experimental basis in order to be able to formulate electoral strategy for the future. He said that public meetings and sit-ins will be held from Khyber to Karachi and Kashmir to Quetta. He said that revolutionary struggle will be instrumental in sending the royal and familial kingdom home.
Announcing the schedule of upcoming public meetings, the PAT leader said that public meetings will be held in Bakhar on November 23, in Sargodha on December 5, in Sialkot on December 14, in Mansehra on December 21 and in Karachi on December 25. He said that the Islamabad sit-in has been extended to a countrywide movement. He said that he has shifted to Pakistan permanently, adding that he would continue to go abroad on brief organizational tours in the midst. He said that according to information, after getting requisite report from JIT, a plan has been worked out to get a clean chit from a judge of anti-terrorism court of their choice to be appointed in the light of Review Commission's report. He said that Allah Almighty is All-Seeing.