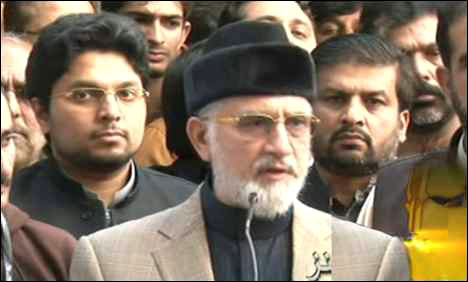 LAHORE: Pakistan Awami Tehreek (PAT) Chief Tahirul Qadri has asserted that he had not stepped back from the mission of revolution, but changed its strategy, Geo News reported.
Addressing a press conference in Model town after his return from Canada, Qadri said continuing sit-in was futile and that he would awaken the masses by going into cities and towns.
Qadri termed the Joint Investigation Team (JIT) formed to probe into Model Town tragedy a 'murder of justice'. He said the probe team was formed by rejecting the affected party 100 per cent.
PAT chief said he had put a condition in the dialogue that the JIT would constitute one officer each from Khyber Pkahtunkhwa police, Intelligence Bureau and Military Intelligence. No one from Punjab would be part of this team, he added.
Source: www.geo.tv