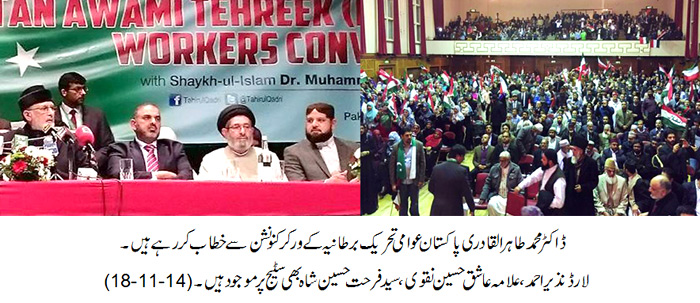 Addressing Workers Convention in London on Nov 18, PAT chief Dr Muhammad Tahir-ul-Qadri has said that we are the one who are not going to lose heart and accept defeat. He said that we have only improvised our strategy for change in the system. He said in a lighter tone that the comfort-seeking nation of Hazrat Musa (peace be upon him) would get Manna from heaven and was very happy with 'Sirri payi, nihari and lassi'. With this mention, the participants of the Convention burst into laughter and chanted slogans of 'Go Nawaz Go'.
Over 2000 people attended the Convention which was held in South Hall of London. Despite this being a working day, the event attracted a massive attendance as the hall was fully crowded to its capacity. The participants of the Convention gave a standing ovation to Dr Tahir-ul-Qadri on his arrival in the hall.
The PAT chief formally launched membership campaign on the occasion. He said that PAT chapters will be revived and activated across UK and Europe. He also informed the participants of the Convention about his successful tour of the US, adding that wherever he went, people expressed their happiness with PAT's struggle of raising a voice against oppressive rulers.
Briefing the participants of the Convention about the details of sit-in in Islamabad, Dr Qadri said that we are moving forward with a new strategy to send the corrupt and oppressive system packing and pull down the government. He said that the sit-ins have been extended to the rest of the country, adding that the rulers are employing new and novel tactics every day to stop our way, be it getting the arrest warrants issued or getting the news of being declared absconder published in papers. However, he made it clear that we are neither going to get afraid, nor giving in nor are we going to be browbeaten into submission. Using an example to make his point, he said that the way a doctor changes different medicines and tries different prescriptions to cure ailments of his patients so that he could recover fast, likewise we are moving ahead with a different strategy to remedy ills afflicting democratic system of the country.
The PAT chief said that he has complete understanding of views with his allies. He said that he is in touch with all of them, adding that we would work out electoral strategy with mutual consultation. He said that every party is free to take decisions regarding holding public meetings and rallies.
Throwing light on the Model Town tragedy, Dr Qadri said that every citizen of Pakistan is in a state of anger on the incident. He said that the rulers are trying to impede transparent investigation into the Model Town tragedy. He informed the participants that the rulers are so much afraid that they have got a stay order from the Lahore High Court in order to avoid publication of a report of a Judicial Tribunal set up by the Punjab government itself. He said that the nation is justified to ask rulers that if their conscience is clear, why are they sitting on the Judicial Commission's report and not allowing it to be released?
Meanwhile, Muhammad Nooruallah, media advisor to PAT chief, has explained that at no place did Dr Tahir-ul-Qadri talk of separating his ways from Imran Khan. He said that PAT enjoys excellent working relationship with the leadership of PTI like before and there are no differences between both parties.