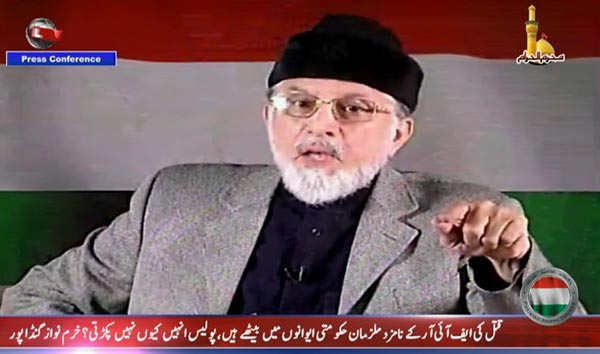 PAT leader Dr Muhammad Tahir-ul-Qadri has said that he had presented three demands in his meeting with the Army Chief namely registration of FIR, secondly constitution of a neutral JIT which enjoys our confidence too, and thirdly resignation of Chief Minister Shahbaz Sharif. He said that the Army Chief termed these demands fair, adding that FIR was registered but two demands are yet to be fulfilled. He asked the Army Chief to play his role in making them get justice. He said that the Punjab government formed a Joint Investigation Team (JIT) after passage of five months, adding that it was better for Shahbaz Sharif to head it and have his close relatives such as Hamza Shahbaz to sit on the team as members than constituting such a JIT. He categorically stated that unless Chief Minister Shahbaz Sharif resigns, we would not accept any JIT.
Dr Tahir-ul-Qadri expressed these views while addressing a press conference through a video link from Canada on November 14 in the central secretariat of PAT. Secretary General Khurram Nawaz Gandapur, Mushtaq Nonari Advocate, G.M. Malik, Qazi Faiz, Muhammad Noorullah, Jawad Hamid, Hafiz Chaudhry and others were present on the occasion.
Dr Qadri said that we requested the Army Chief to become a guarantor in addition to being an arbiter because we were not getting justice. He said that the courts which are expected to deliver justice to the aggrieved are issuing our arrest warrants and declaring us proclaimed offenders. He said that Operation Zarb-e-Adl has become necessary for success of Operation Zarb-e-Azb. He said that there is a fear that the scope of Zarb-e-Azb may be extended to the rest of the country on the increasing number of incidents of injustice. He said that by Zarb-e-Adl is solely meant justice and justice alone. He said that the worst kind of state terrorism was committed on June 17 in Model Town, bullets were fired continuously for 12 hours, people were killed and the blood of innocent civilians was shed like water. He said that we reject JIT established by the Punjab government. He said that political Jirga had also agreed to our demand of neutral JIT enjoying our confidence too but the rulers backtracked from this as well.
The PAT Chairman said that unless Shahbaz Sharif resigns, there is no possibility of getting justice. He said that both Sharif brothers are killers and directly involved in Model Town tragedy. He said that Abdur Razzaq Cheema, the head of one-sided JIT formed by Punjab government, is a family friend of the Sharif family who spent most part of his service in Lahore, Faisalabad and Rawalpindi, adding that we had termed Abdur Razzaq Cheema as undesirable during dialogue with the government.
Dr Qadri asked the Sharif brothers as to what is the difference between JIT formed now and the one established five months ago? He said that purpose of forming JIT is only to find scapegoats. He said that five out of six members of present JIT enjoy the confidence of the government. He said that if people do not get justice, they will take up arms. He said that it is for this reason that Operation Zarb-e-Adl is essential for success of Operation Zarb-e-Azb. He said that Shahbaz Sharif should resign and an officer belonging to KPK should be made head of JIT to make it acceptable to PAT. He demanded that new JIT should be manned by one officer each from ISI, MI and IB. He further said that we would not accept a JIT which has representation of officers from Punjab because killers cannot dispense justice.
The PAT Chairman said that making officer of Balochistan police the head of JIT is merely an eyewash, further saying that he is not a Baloch officer, rather his whole service was rendered in Punjab and he went to Quetta on deputation. He said that Shahbaz Sharif is a planner of Model Town tragedy, adding that there is a dual system of justice in the country for the rich and the poor. He asked when such courts will be established in Pakistan which would hold the powerful accountable. He said that the entire nation saw the scenes of state terrorism live on their television screens, what more proofs were required? Terming the government's JIT as a conspiracy, he said that filing of cases against him and issuing arrest warrants is a cowardly act of the government. He said that if the government wants to arrest him, it should do so happily. He further stated that we have been demanding resignation of the Chief Minister from day one and we would not back off from this demand.
Dr Tahir-ul-Qadri said that the government had also agreed to formation of a neutral JIT to probe Islamabad tragedy but they have backtracked from this well. He said that a file of an attack on him in 1992 has been misplaced while inquiry report of Model Town incident has not been made public, vowing that we would not rest till we get justice. He said that those accusing us of a deal and accepting blood money should be ashamed now. He said that he saw all qualities of a good Muslim in the Army Chief during his meeting with him, adding that we are proud of our Commander. He said that two of three demands, which the Army Chief had termed fair, have not been fulfilled so far. He said that he even did not see the gate of PTV and he was booked in an attack case, adding that we were besieged in Model Town and a motorway case was registered against us, asking whether it is system of justice and courts in the country.