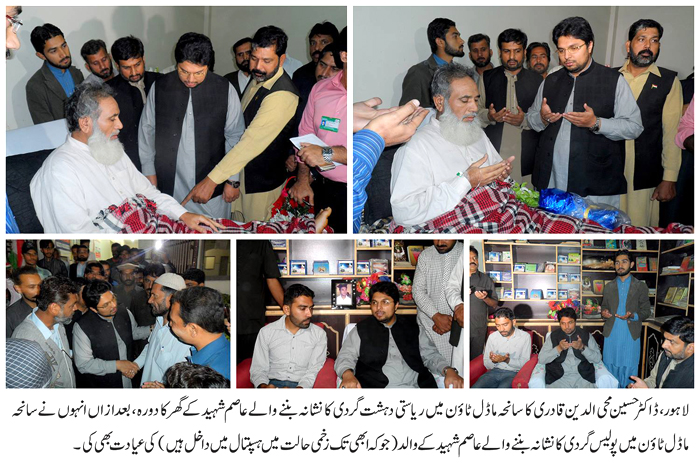 What to speak of a deal on martyrs' blood, there can be no compromise on even sweat of workers. No one should have any doubt about the fact that there will be blood for blood according to Pakistani law and justice system. The rulers are responsible for Wagha border tragedy as they are least bothered about security and safety of life, property and honor of citizens. We will not rest till we make the culprits of Model Town tragedy face the law and get punished accordingly.
These views were expressed by PAT Federal Council Chairman Dr Hussain Mohi-ud-Din Qadri while talking to families of Model Town and Wagha border tragedies during his visit to their homes on November 07. He individually met heirs of martyrs and enquired after their well-being. He paid glowing tributes to the bereaved families for their patience and courage in the face of daunting personal tragedies.
Dr Hussain Mohi-ud-Din Qadri said that the blood of martyrs will not go in vain. He said that the martyrs rendered the ultimate sacrifice of their lives for the lofty ideal of revolution and their sacrifices would herald the end of oppressive system by restoring the usurped rights of people.
Talking to media on the occasion, Dr Hussain said that PAT chief Dr Tahir-ul-Qadri is waging a peaceful struggle for restoration of rights of the masses and to give them respectable status in society. He said that his struggle has given awareness to the people, adding that this revolutionary movement will soon reach its destination with the support of the masses.
The PAT Federal Council Chairman said that the country is on fire from Khyber to Karachi. He said that the armed forces are giving exemplary sacrifices in fight against militancy and terrorism but the fruits of peace are not reaching the masses due to incompetence of provincial governments. He said that 70-day historic sit-in of PAT transformed political landscape of the country.
He said that it is a classic case of disregard for rule of law that no investigation has been initiated into Model Town incident despite registration of FIR; so much so that JIT has yet to be constituted. He, however, added that the killers would face the long hand of law one day.
Dr Hussain Mohi-ud-Din Qadri condemned the suicide attack near Wagha border and termed it failure of the rulers. He said that the nation is justified to ask rulers as to who is responsible for the killing of dozens of people in incident of terrorism. He said that family dynasty is the root-cause of all problems, adding that PAT would change the system through power of vote.