Revolution march to start on August 14: Dr Tahir-ul-Qadri announces at Martyrs Day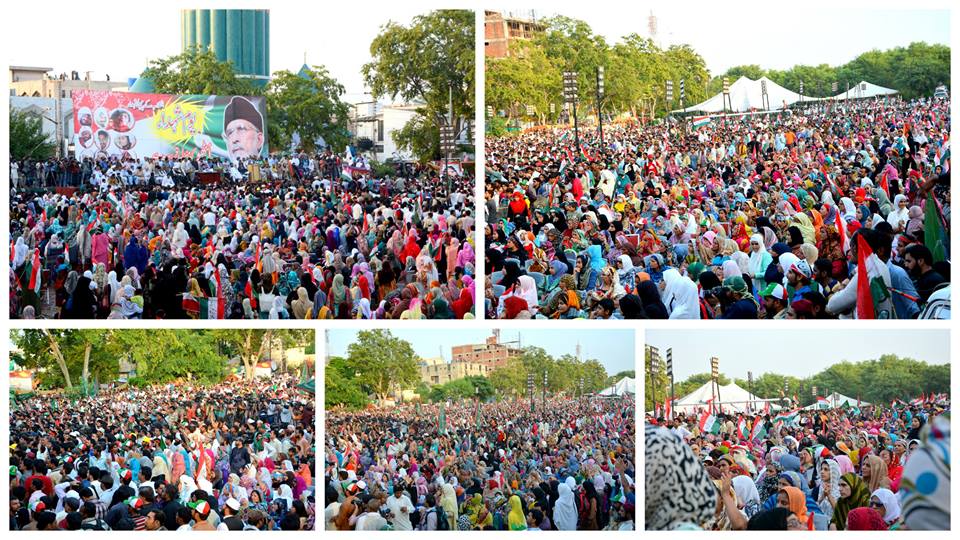 Dr Muhammad Tahir-ul-Qadri has announced revolution march on August 14 for elimination of the system of oppression and coercion. He asked 180 million people to stand up to repression and status quo which was responsible for keeping them mired in poverty and backwardness. He said that sacrifices of the workers in the way of revolution including getting tear-gased, baton-charged and embracing martyrdom were worthy of our deepest respect and pride. He said that neither would oppression nor oppressor be spared now, adding that the reign of the cruel rulers would come to an end. He made it clear to workers that revolution was not a bed a roses or a ripened fruit which would fall down automatically in their lap. He said that no revolution came about without sacrifices, adding that the workers would have to remain determined and steadfast to accomplish their objectives.
Dr Tahir-ul-Qadri expressed these views while addressing thousands of PAT workers on the occasion of Martyrs Day in Model Town in Lahore on August 10. Chaudhry Pervez Elahi of Pakistan Muslim League, Sheikh Rashid Ahmad of Awami Muslim League, Amin Shaheedi of Majlis Wahdat-ul-Muslimeen, Mahmood-ur-Rashid of PTI, Rasheed Godail of MQM and Sahibzada Hamid Raza of Sunni Ittehad Council also addressed the Martyrs Day ceremony. Dr Mamoona Naz of Suraikistan Party presented bangles to Shahbaz Sharif.
Dr Tahir-ul-Qadri said that revolutions came about in the US, Europe, sub-continent, France and China after many sacrifices and a protracted struggle, adding that Pakistan also came into being as a result of sustained struggle and countless sacrifices both in man and material. He asked the workers not to leave the venue for three days for the restoration of rights of 180 million people. He said that Quran Khawani would continue to take place for three days. He asked the people to keep joining the Quran Khawani in Model Town every day, adding that it was after three days that revolution march would leave for its destination under the leadership of all allied parties.
Dr Qadri said that in case he got martyred, the workers should take revenge on the Sharif brothers and their cohorts. He took a pledge from the workers to stay encamped at Model Town secretariat for three days. He said that if people thought that the workers of PAT, PTI, PML-Q, SIC, MWM, and other allied parties would bring about revolution alone, then they were mistaken, adding that the entire nation would have to take to the streets for revolution.
Dr Qadri said that we were peaceful and or 32-year old history stood witness to the fact that PAT and MQI workers were the most peaceful and peace-loving people. He said that they always battled oppression and torture with the strength of peace and never got provoked. He said that despite this record, the thousands of PAT workers had been besieged in Model Town and their access to food, water and other eatables had been blocked for seven ages. He said that these hurdles could not stop our way towards democratic and peaceful revolution aimed at changing the destiny of 180 million people.
In what could be termed as a major development, Dr Tahir-ul-Qadri revealed that he had information that he could be martyred anytime to stop the way of people's revolution. Swearing by God, he said that he was not afraid of martyrdom; rather he looked forward to it, adding that he could not be scared away from his path of revolution by such threats. He said that the oppressors wanted to attack him with an intention to martyr him after the workers were worn-out. He said that there was no third way except success of revolution or martyrdom. Daring his opponents, he said that if they wanted to martyr him, they could because he was not sitting in the bullet-proof container; rather he was among the people. He asked them to call in their terrorists and he would not hesitate to get martyred for the rights of 180 million people. He said: "If I am martyred for the rights of the people, provision of jobs to the jobless, justice to the oppressed, prosperity to the poor, famers and downtrodden sections of society, provision of homes to the homeless, and delivery of fundamental rights to the poor and disadvantaged sections of society, I would embrace such martyrdom with open arms and smiling face."
Dr Tahir-ul-Qadri said that two/three cases were being registered against him every day. He clarified that FIA failed to establish money laundering charges against him. He said that the investigative agency, in its 100-page report to the Prime Minister, accepted that no proof of money laundering of even a single rupee was found against him. He said that he had regularly been paying his income tax and did not default on it even for a single day. He further informed that he had been sharing his one-kanal house with two of his married sons since 1985 and had no property or bank balance anywhere in the world including the US, Canada, Europe or Pakistan. He said that he was living a dignified life and did not need to throw himself into life of hardships but added that if he was waging a struggle, it was for restoration of the usurped rights of the poor masses who had been left out of the mainstream of life due to 'elite capture' of the state resources.
Exposing the government's lies, Dr Qadri revealed that a police constable, Muhammad Ashraf, died in a road accident on August 08 at Ferozpur Road and the government registered FIR against him and PAT workers. He said that media exposed this blatant lie of the corrupt and cruel rulers when they established the cause of the police official's death. He said that the constable died after undergoing treatment for one day on August 09 and his death was placed at the door of PAT workers. He said that Gullu Butts of PML-N had been setting public property on fire by resorting to arson. He informed that 25000 of PAT workers had been arrested and 2000 were still missing. He said that Bahera was turned into a battleground where workers were beaten mercilessly. He said that they battled the bullets and shelling of police with sticks. He said that this chapter of brutality and savagery had been added in the annals of Pakistan's history. He said that those who cut off food and water supplies of the workers would soon be out of power.
Quoting references from the Holy Quran, Hadith and Islamic history, Dr Tahir-ul-Qadri threw light on the Quranic concept of martyrdom. He asked the workers to become guardians of revolution for restoration of rights of 180 people with good intentions. He said that workers should make a vow to protect revolution for elimination of night of darkness, and restoration of smiles on the faces of the poor.
Addressing the police from IG down to a constable, he asked them not to become brutes to save their jobs to please the Sharif brothers. He said that their rule would end soon and they would not come to save them. He said that they would have to answer for so many killings they admitted to have carried out. He said that that Jihad was superior that stood up to the oppression and brutality of the oppressors and eliminated this system of violation of human rights.
Addressing the western world in English language, Dr Tahir-ul-Qadri said that we wanted to establish real democracy in the country, the one in which people were real stakeholders in the system. He said that we wanted transparent, free and fair elections and rule of law in the country. He said that we wanted to put in place a system where socio-economic justice of all was established including the non-Muslim communities. He said that the rulers presided over terrorism and funded the terrorist organizations. He said that we wanted to establish a representative democracy by eradicating militancy and terrorism. He said that we wanted to protect rights of the poor and give them respectable and dignified life. He said that struggle launched to achieve all of these objectives was called green revolution. Ruling out the option of martial law and the army's interference in politics, he said that we wanted to strengthen our armed forces to perform their professional duty of defending the national frontiers. He said that we wanted to play our role to make the world hub of peace by eliminating terrorism in all its forms and manifestations.
In the end, Dr Qadri appreciated the role of electronic and print media, reporters, journalists and their owners and said that they were playing their due role in representing the aspirations of the masses.
Addressing the Martyrs Day ceremony, PTI leader Mahmood-ur-Rasheed said that his party paid homage to PAT for its matchless sacrifices for democracy. Addressing the rulers, he said that it was for the first time that they had found an ideological opposition and motivated workers who were ready to sacrifice for greater thought, ideology and pleasure of Allah. He said that the Sharif brothers should know with open minds that no one could stop the movements from succeeding which got watered with the blood of the workers.
MQM leader Rasheed Godail said that the people having democratic thinking could not even think of blocking the way of the people. He said that it was the work of the dictators, adding that if the rulers imposed restrictions on the peaceful and democratic workers, they should know that the Pakistan's history was replete with sacrifices of the martyrs.
Sheikh Rashid of AML, while speaking on the occasion, said that the martyrs had won and the killers had lost. He said that the emotions and passions of PAT workers were unparalleled. He said that people would take to the streets with Tahir-ul-Qadri and Imran Khan against looters, robbers and dacoits. He said that arrogance and conceit of Nawaz Sharif would be broken, adding that the military was no one's personal possession, rather it was a military of Pakistan and Islam. He said that the nation should know that sacrifice would be offered before the day of sacrifice.
Ch. Parvez Elahi of PML-Q also paid glowing tributes to the resilience and courage of PAT workers and said that they braved the dictatorial regime in a remarkable manner with patience and forbearance. He said that his family was the one which stood by their friends and partners till the last moment. He asked the PAT workers not to feel that they were alone in this struggle. He said that the Sharif brothers were crossing all limits in committing oppression on the innocent people. He said that he was clear based on his political experience that if Tahir-ul-Qadri and Imran Khan took to the streets together, these rulers would flee the country. He said that these rulers acted in the same way as Israel had done and asked as to how many more people they would kill.
Sahibzada Hamid Raza, while speaking on the occasion, said that the blood of martyrs would not go in vain. Addressing Punjab Law Minister Rana Mashhood, he said that the blood of 22 martyrs was a 'debt' on us, adding that we would hold him accountable for these killings through law and the Constitution. He said that the rulers got ten thousand people martyred in the name of dialogue with the Taliban and announced that their blood would also be avenged in addition to the Model Town victims. He said that the predecessor of Rana Mashhood was ready to become approver. He said that there was nothing in-between revolution and martyrdom.
Allama Amin Shaheedi of Majlis Wahdat-ul-Muslimeen said that we were real heirs of the martyrs. He said that bloody scene of the Model Town represented the scene of Karbla. He said that the tactics of the oppressors remained uniform in every day and age. He said that killers would try to pose as the oppressed in every age but said that the age of oppression was always less.