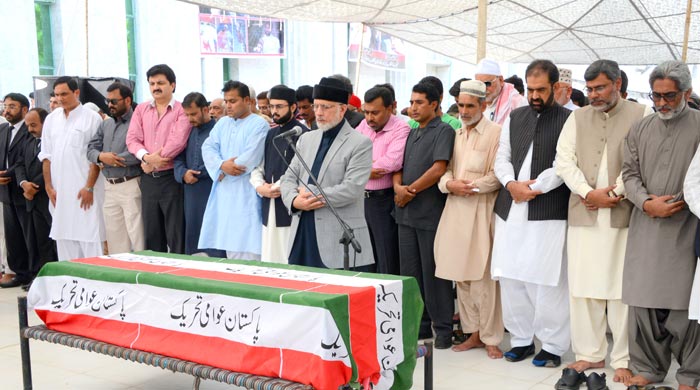 With martyrdom of Shahbaz Mustafavi of Muridkay who succumbed to bullet injuries here today, the death toll of Model Town carnage has risen to 14. On June 17, the Punjab Police opened indiscriminate firing at unarmed and innocent workers of Pakistan Awami Tehreek and Minhaj-ul-Quran International during their raid and martyred ten people in the process besides injuring over 90 people including 40 who were critically injured.
The dead body of Shahbaz Mustafavi was brought to the central secretariat of MQI in Model Town after post-mortem where funeral prayers for the deceased were offered by hundreds of workers and leaders of MQI and PAT. Shaykh-ul-Islam Dr Muhammad Tahir-ul-Qadri led the funeral prayers.
Talking on the occasion after the funeral prayers, Dr Muhammad Tahir-ul-Qadri said that our workers were martyred but we remained peaceful in the wake of severe provocation, adding that we would continue to be peaceful in future as well because peace was our strength. He said that none could defeat the peaceful people. He further stated that the blood of martyrs would not go to waste and the killers would be held accountable according to law and justice of nature.
Dr Qadri made it clear that our struggle would continue till Pakistan emerged as a bright state on the horizon of the world and no power could stop the revolution from happening. He said that 1400 of PAT activists had been arrested in Islamabad/Rawalpindi, adding that these arrests and high-handed actions could not scare us. He made it clear that the state terrorists would be confronted and taken on at every front.
He said that we raised the banner of truth but the rulers chose to spray live bullets on the innocent workers and some of the injured by state terrorism had succumbed to injuries and were losing their lives in the process. He said that Shahbaz Mustafavi was one of the workers who fell prey to state terrorism.
Talking on the occasion, the father of the deceased said that his son laid down his life for truth and revolution, adding that only revolution would be our revenge. PAT Secretary General Khurram Nawaz Gandapur said that our struggle for revolution had gotten underway with blood of martyrs and it would surely reach its destination.