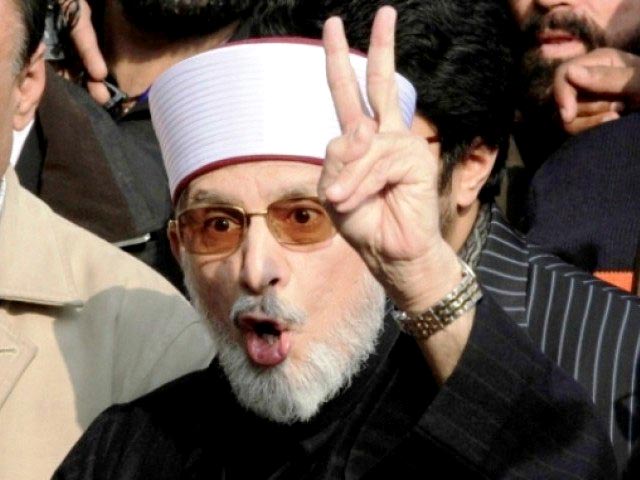 LAHORE: Pakistan Awami Tehreek (PAT) chief Tahirul Qadri conditionally agreed to leave Lahore airport on after holding meeting with Governor Punjab Chaudhry Muhammad Sarwar inside plane on Monday.
Large number of PAT activists present within the premises of Lahore airport expressed happiness over their leader's arrival, whereas, Dr Tahir-ul-Qadri would leave for his home under private security.
Qadri will visit injured activists of his political party under treatment in Jinnah hospital in Lahore under strict security measures before reaching home.
According to reports, Qadri initially demanded security circle around him comprising of military personnel, however, further agreed to leave airport with private guards after rejecting government's security.
Immigration procedures were completed on the airport and passport of the political leader has been returned.
Punjab government has maintained tight security arrangement for Dr Tahir-ul-Qadri over his return to the country and deployed heavy contingents of security forces on the routes likely to be used by the PAT chief's convoy.
CCPO Lahore Zulfiqar Hameed will travel besides the Qadri's convoy while he will be moving towards his home.
On the other hand, PAT activists announced to end sit in Numaish Chaurangi located in Karachi after Qadri's approval to leave airport along with private security guards.
PAT chief Tahir-ul-Qadri arrived in Pakistan in order to lead an opposition alliance against Pakistan Muslim League Nawaz (PML-N)-led federal government along with Pakistan Muslim League-Quaid (PML-Q) and other political allies.
Source: www.thenewstribe.com