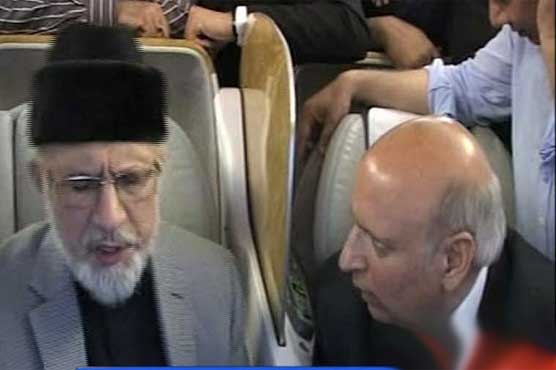 A large number of the workers including women thronged the hospital to greet their party chief.
LAHORE (Dunya News) - Pakistan Awami Tehreek (PAT) Chief Dr Tahirul Qadri arrived at Jinnah Hospital on Monday to inquire about the health of the party workers who injured in police firing during Model Town tragedy on June 17.
Punjab Governor Chaudhry Muhammad Sarwar and PML-Q leader Chaudhry Pervez Ilahi were accompanying the PAT chief.
A large number of party workers including women were present in the premises of Jinnah Hospital and surrounded the party chief to welcome him.
Earlier, Tahirul Qadri disembarked from the plane at Lahore airport after he conditionally agreed that Punjab Governor Chaudhry Muhammad Sarwar should accompany him to Jinnah Hospital and then his party secretariat at Model Town.
To fulfill Tahirul Qadri's demand, Punjab Governor Chaudhry Muhammad Sarwar arrived at Lahore airport and held meeting with the PAT) chief inside the plane.
Tahirul Qadri said he agreed to come out of the plane because he considers Chaudhry Sarwar as his brother and not as representative of the government.
After arrival of Chaudhry Pervez Ilahi at Lahore airport, Tahirul Qadri, along with the Punjab Governor and the PML-Q leader left for Jinnah Hospital.
Qadri had set condition to the government that he will only exit the plane if Governor Punjab Chaudhry Sarwar accompanies him to his Model Town residence.
Police officials were appointed at the route to Jinnah Hospital and Model Town while CCPO Zulfiqar Hamid also accompanied the convoy of Dr Tahirul Qadri.
On Monday (today) morning, the federal government diverted Qasri's plane to Lahore where he refused to get off until army assures his security.
The PAT chief later conditionally agreed and demanded that Punjab governor should accompany him to Model Town.
Source: http://dunyanews.tv